Are you looking to grow your Facebook group? If so, this blog post is for you. We'll show you how to create a successful and engaged Facebook Group that will get people talking about what matters most to them.
You want to create an engaging community for people who share your interests or have similar goals in life.
A Facebook Group is the perfect place for that! With our tips on how to build a successful Facebook Group, you can make sure everyone has something interesting to say and participate in discussions with other like-minded individuals.
Follow this guide on how to grow a successful and engaged Facebook Group today!
P.S. Want to build an audience quick? We provide services to get more followers on Facebook. Check out our Facebook Followers here.
Promote Your Facebook Group to the Right People
If you're looking to grow your Facebook Group, it's important that you promote yourself and your group to the right people.
There are a few ways to do this.
Start with your Facebook friends, then expand to groups that may contain members who are interested in the topic of your group and start sharing content from relevant pages.
Encourage people you know offline to join – for example, team up with a friend or colleague on a new project and promote it through your Facebook Group!
Reach out to people that are part of groups you like, but not yet a member of yours.
Provide Value in Your Facebook Group
It is important to provide value to your audience and not just push products. This is because Facebook groups are all about a connection with your customers and potential customers. If you have an engaged Facebook group, it will be easier to market directly to them through posts that they might find interesting or useful.
Here are some ways to provide value to your Facebook group:
Ask questions that will foster discussion, but not ones where people can just answer yes or no. This is because it should encourage visitors to engage
Offer free content that is helpful, relevant, and valuable to your Facebook Group members (see link below). This can be done using a blog post on the topic or by providing detailed information about a particular subject in posts over time.
Provide tips for getting things accomplished more efficiently such as time saving hacks, how to lose weight the healthy way or financial tips.
Offer live events for your Facebook Group members on a regular basis such as webinars, teleseminars, and Facebook Lives.
Create an online course that can be accessed by Facebook Group members at any time.
Pass along relevant news that is in your area of expertise or interest to help keep members involved with what's going on and engaged with the group.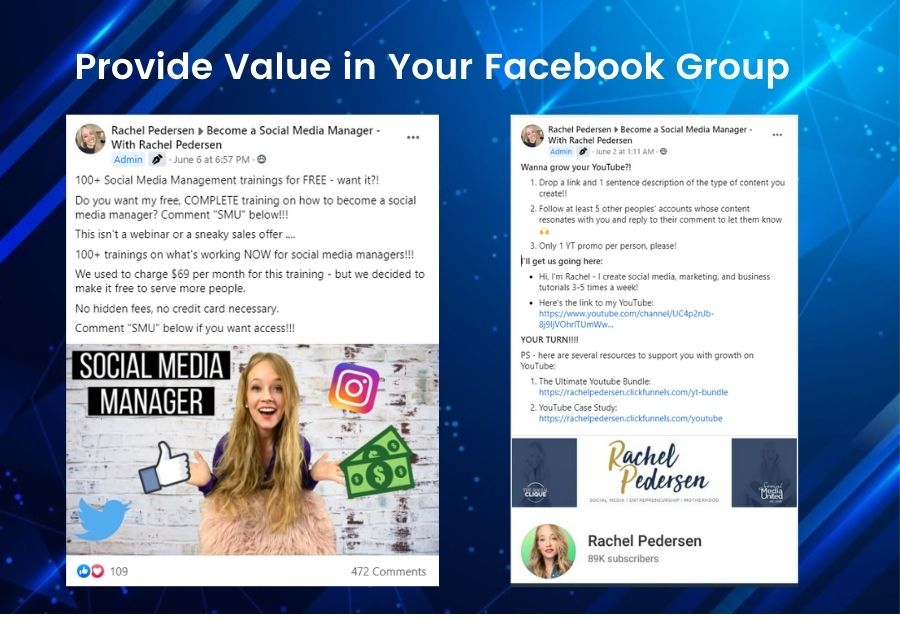 Engage with Your Group Regularly
As your group continues to grow, members will inevitably ask questions, share their thoughts and opinions on various topics, or need advice (especially if you're providing a service). To keep your Facebook Group active–and to avoid the issue of members feeling ignored–take these steps:
If someone posts a question in the group chat, either answer it yourself or delegate the task to another member.
Moreover, understanding that some members might prefer to share insights or ask questions without revealing their identity, it can be useful to explore how to post anonymously on Facebook group to facilitate a space where everyone feels comfortable sharing. Encouraging an environment that respects privacy and anonymity might unearth valuable feedback or critical concerns that members may otherwise be hesitant to share.
Don't forget to post a few questions yourself to get the conversation going and keep your members engaged. This way, you can get to know them better and they'll get a chance to interact with one another.
Get Feedback From Your Audience
It is important to work with your audience to understand what they want. This makes it much easier for you to publishing content that will keep them engaged and coming back to the Facebook Group on a regular basis.
Ask about some of their favorite videos or blog posts, so you can start creating similar content in the future.
Poll your audience at the end of a post to get their feedback on whether it was helpful or not.
Ask them what they want to learn more about, so you can start posting those types of content as well.
Alternatively, you can post a poll of possible topics for them to vote on.
Welcome New Facebook Group Members
It is good to welcome new Facebook group members when they first join your group. It is important to make them feel welcome and get their attention from the onset, so they know that you are there for them and want to be a part of their Facebook experience with you.
One effective method to notify all members about a newcomer is to tag everyone in the Facebook Group. This ensures that everyone is aware and can extend their greetings or share helpful resources with the new member.
You can also create a welcome post for Facebook group members who have just joined your private Facebook groups.
It is essential for Facebook groups leaders to create a welcome post when new members first join their private Facebook group. A welcoming message not only helps make them feel special but also helps to ensure they are aware of the guidelines and rules you have set in your Facebook group, as well as any important information that all members need to know.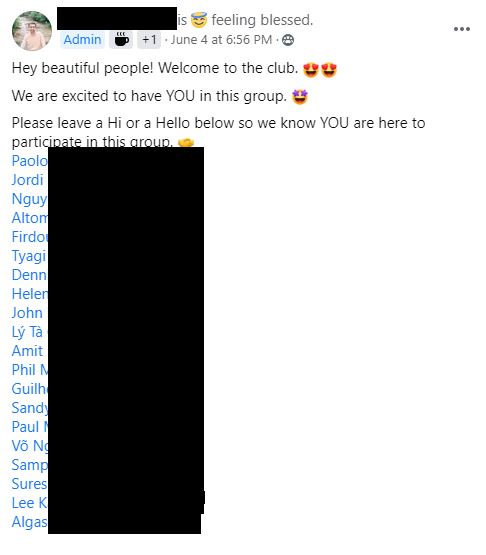 Conclusion
Now that you know how to grow a successful and engaged Facebook group, it's time for you to put your knowledge into action.
Which of these do you think will be easiest for you?
The most important thing is to have fun! It may take some trial and error before finding the right formula for success but don't give up after one try – keep trying until you find what works best for your audience.
We hope this article has been helpful in getting new ideas so feel free to share any reactions below! What are your thoughts about growing a successful Facebook Group?
Latest posts by Rajat Garg
(see all)