Social media is not only an entertainment platform, but it is crucial for businesses, most importantly those small businesses that need to amplify their marketing without investing too much on promotions. Gaining feedback and boosting popularity is something that engagements on social media can easily do, especially on Facebook.
But engaging with your audience takes more than just having a Facebook page and posting regularly. The biggest pro of Facebook is having the opportunity to persuade your audience. Are there little to no users commenting on your post? Well, here are 10 tips you can use to boost the number of comments you get.
P.S. Need a way to get Facebook Comments fast? Now you can buy Facebook comments to boost your engagements.
How to Get More Facebook Comments on Your Posts
Here are some tips that you can try implement for your business to get more Facebook comments.
Start With a Question in Your Facebook Posts
Asking questions is a great way to catch your audience's eye. You get the audience that you attract. Asking questions means getting an answer, and those answers could be in the form of comments and other engagement. It could be little things like asking them how they spent their Valentine's day, or asking them for tips on how they use your products and services.  People love talking about themselves, especially things they are interested in, so use this information to gain those numbers!
Here's an example of a good Facebook post that starts with a question.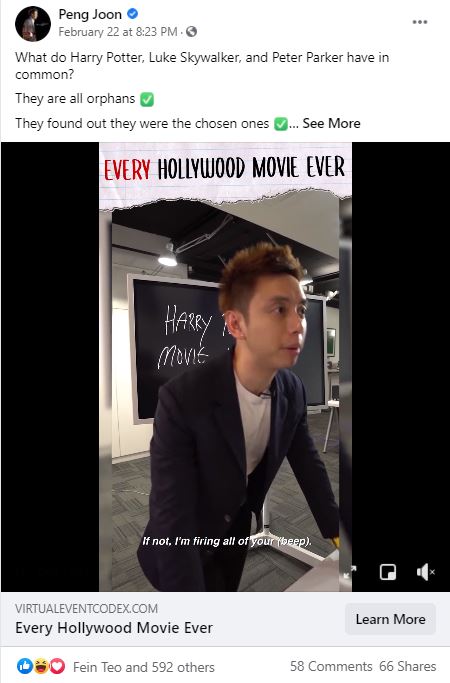 Engage on Your Facebook Posts
Commenters love getting acknowledgment from the page they've commented on, so don't hesitate to interact! Doing this can also show that your page is responsive and that you indeed read your viewer's inputs. Replies could also encourage more comments to come your way.
Make use of the reply function Facebook has, and don't forget to tag the person you're replying to.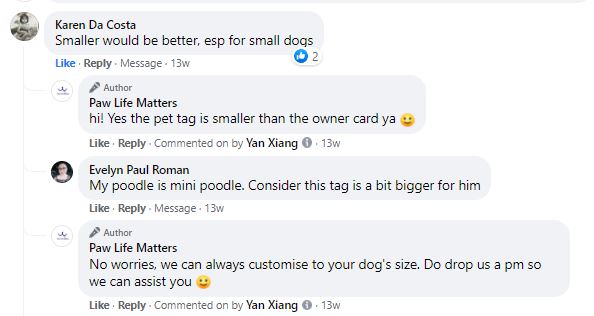 Use high-quality images
No one likes to see posts with no color. People are more likely to pay attention to a photo than a long wall of text, so don't hesitate to add photos that could contribute to your post. Make sure the images you use aren't pixelated and are relevant to the topic.
These days, there's no need for fancy cameras or an expensive setup. Our mobile phones are enough! Get to know your phone and the type of images it can capture and use that to step up your photo game.
Caption this photo
During a time where everyone is indoors, on their mobiles, and looking for entertainment, use the recent memes to peak their interest. Using heartwarming or funny images are sure to boost your engagement.
Making someone laugh is a great feeling, by asking them to caption a photo that entertains them will usually get enthusiastic responses.
Emotionally connect with your audience
Not only does your audience love cute pictures, but they also love heartwarming stories. These things could induce emotions of nostalgia. Whether the viewers laugh, cry, or be surprised, try to find common ground where your viewers could feel a sense of connection with your post.
Trendy and Chic
These days, there are plenty of trends, use them to attract commenters. For example, using a quote from a famous song or movie in the content you've posted could attract commenters. Hop on the bandwagon and bring your community together for mutual interest in a current trend.
Keep your captions short but lively
You don't necessarily have to have lengthy captions to catch the attention of your viewers. Two short but sweet sentences can do the job better than a paragraph of winding text. Think of captions that will make them smile, but don't drag it out too much.
If it's appropriate to the situation, the use of emojis can also bring color and emotion to your captions.
Have a posting schedule
Every brand has its own perfect time to post. Run a few tests to figure out when your viewers are online, make a schedule to figure out when your posts will get the most attention. If you've observed that your viewers are least interactive late at night, it's best to avoid posting during those times of the day. You'd need to figure out when is the best time to post on Facebook as each industry is different.
Frequent posting could lead to your Facebook page to looking cluttered as well, which could drive potential viewers away from interacting with your content.
Focus on quality content
A common mistake made by a handful of Facebook users is thinking that the more posts you produce, your engagement rate will be boosted. Rather than thinking of quantity, think of the quality of the posts you put up. Put in the time to think of witty content,;no one likes things that seem rushed. Personalize every post and every caption to show a side of you that would attract followers to comment.
Are they interesting enough? Do they evoke emotion? Do they sound monotonous? All these are factors you should consider, and there may be more depending on the type of page you are running.
Make use of Facebook Stories
Facebook stories only last for 24 hours, so they're great for avoiding cluttering your page! Oftentimes, users pay more attention to stories than actual posts because they often contain entertaining content, so make sure to use this game-changing Facebook feature.
You can compile your stories in a type of folder called a " highlight " that appears at the top of your page, which makes your stories viewable to all users at all times unless you remove them or delete the highlight reel.
FAQS About Getting More Facebook Comments on Your Posts
Here are some FAQs on how to get more comments on Facebook.
What is a good engagement rate on Facebook?
Anything over 1% is a good engagement rate. Rates below 0.5% could mean that you need to start re-evaluating how you post and what your viewers like to interact with.
Tracking your engagement rate could be a great way to assess how to get more comments on each of your posts, so never overlook it.
Why does Facebook only show the most relevant comments?
The comments under each post are ranked, with the high-quality comments shown at the top for easy access to other viewers who may be looking at the comment section to gain more knowledge about the post.
What are people interested in commenting about?
People love sharing parts of themselves in the comment section, may it be a heartwarming story or a subtle brag about their past achievements. Use images or include topics in your caption that could encourage these kinds of comments.
What are the latest Facebook trends?
The recent Facebook trends include the use of Facebook's many useful features such as the Facebook live story, or even the ability to create 360 photos. Lately, at the height of online shopping, the Facebook marketplace has been booming as well.
In case you are going to use the Facebook marketplace, be sure to present all the information about your product to avoid scaring away customers who are afraid of getting scammed.
Latest posts by Rajat Garg
(see all)