Want to get off Facebook for a while? Read on to know how to freeze your account.
It's hard to imagine a day spent without social media.
Think about it: Most of us check our phones the first minute we wake up, right?
Facebook, for example, has been very useful for some. They use it to connect with their friends, post photos, and even read headlines and trending topics.
However, there are people who choose to freeze or deactivate their accounts.
Whether you want to protect your online privacy or simply disconnect, freezing your Facebook account is very simple.
P.S. If you ever want to use FB again, you can always check out our Facebook account packages. We have all types of Facebook accounts that you can use for personal use and business.
Is There a Difference Between Freezing and Deleting Your Facebook?
The biggest difference is that when you freeze your account, you still have the option to go back to it whenever you want. But when you delete, there's no option of bringing it back—you can no longer access your previous Facebook activities.
What Happens When You Freeze Your Facebook Account?
When you freeze your account, your timeline—including status updates, shared posts, friends list, and photos uploaded—will remain hidden.
People wouldn't also be able to search for your account. In a way, you're just removing yourself from the website, but all your information and activities are still there.
What Happens When You Delete Your Facebook Account?
On the other hand, if you choose to delete your account, you won't be able to regain access in case you change your mind.
Once deleted, all activities associated with the user will be gone. It takes up to 14 days before Facebook permanently deletes your account.
But it can take months before all your information is erased from Facebook's backup systems. It is recommended that you download your information first, so you can have a copy of your own or if you want to transfer them to another service.
Steps to Freezing Your Facebook Account
Follow these steps if you want to temporarily freeze your account.
Log into your Facebook account.
On the top right part of the home page, click the triangle-shaped button. Scroll down until you find the "Settings & Privacy" menu. Hit click.
Go to "Settings."
Under "Your Facebook Information," scroll down and click "Deactivation and Deletion."
Choose the "Deactivate Account" option. Type in your password, and then click "Confirm."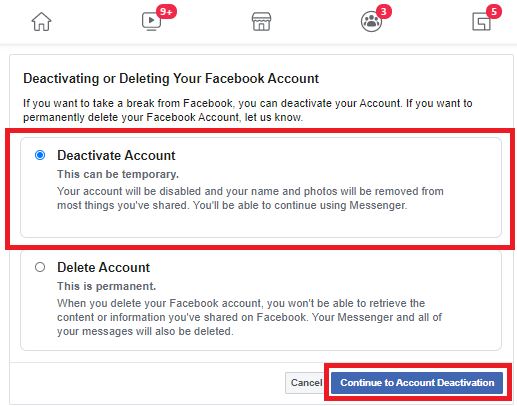 How to Download Your Information From Facebook
If you plan to freeze your account for a long time, you can choose to download your Facebook information. In this way, you can still access your photos, for example, without logging in to your account. Here's how to do it:
On the top right part of the homepage, click the triangle-shaped button. Scroll down until you find the "Settings & Privacy" menu. Hit click
Go to "Settings." Choose "Your Facebook Information"
On the right side, scroll down and click "View" next to  "Download Your Information."
You have the option to choose which data to download. Simply check or uncheck the category boxes on the right side.
When done, choose the format of your download, date range, and media quality for photos and videos.
Click "Create File" to confirm your request.
Wait for a notification to inform you once the request has been prepared.
Once done, go back to the "Download Your Information" page again and click "Download."
Your file should begin downloading after re-entering your Facebook details.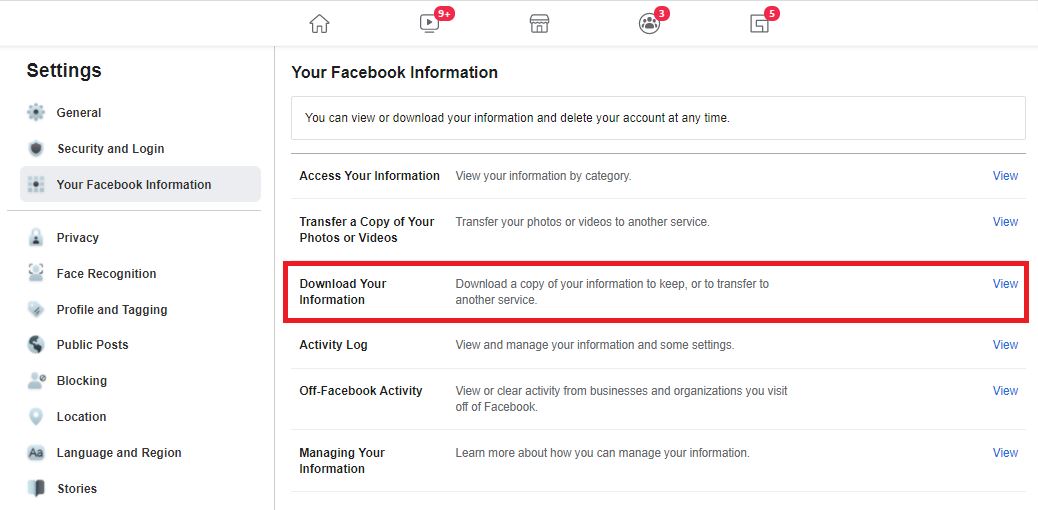 Post that you might be interested: Have more than one account on Facebook? Check out this post on how to manage multiple Facebook accounts.
FAQs About Freezing a Facebook Account
Here are some FAQs that you should know about freezing a Facebook account.
How long can I freeze my account?
There is no limit on how long a user can keep his or her account deactivated. But when you choose to delete, Facebook will wait after 14 days before deleting it permanently.
What do my friends see when I freeze my account?
While your "friends" can no longer search for your account, all messages sent are still visible. They still can view shared tagged photos and your comments on their posts.
How come my account is still visible to some after freezing my account?
Freezing your account is only a temporary action. Your information is still available on Facebook's servers even if your timeline is unavailable. For example, your friends can still see your name on their friends' list. If you're part of any group page, admins will still be able to see your posts and comments.
Can someone message me on Facebook even if I freeze my account?
If you still choose to remain active on Messenger, you are still able to send messages and vice versa. You can keep using the app without reactivating your Facebook altogether. You may download the app if you haven't already. But if you want to cut off communication via Messenger, you can always uninstall it.
Keep all this information in mind if you decide to freeze your Facebook account.
Latest posts by Rajat Garg
(see all)