Facebook has a lot of features that are hidden from the average user.
We've compiled some of our favorite hidden features for you here!
These are some really cool features that will help you get more out of Facebook.
P.S. Looking to grow your business using Facebook? We can give you a head start by offering marketing packages such as Facebook reviews from real and active users.
Message Requests
If you've been on Facebook for a while, you might have noticed that sometimes your messages mysteriously get ignored. This is because those messages are from people that you're not friends with.
If you want to make sure that your messages show up on the other person's account, go ahead and add them as a friend first! You can then message them from within Facebook without issue.
To review these messages, click on the Messages icon on the top left, then click "Message Requests". Then you can select which messages you want to reply to or ignore.
If you want to make sure that your messages show up on the other person's account, go ahead and add them as a friend first! You can then message them from within Facebook without issue.
See All The Friends That You Send Request
Ever wondered how many friends you've sent requests to? Facebook has a hidden feature that will show just that. Just go to this URL (https://www.facebook.com/friends/requests) and you'll see all the friends that you've sent requests to.
Check Where You've Login Your Facebook Account
Want to know where you've logged into your Facebook account? Don't worry, there's an easy way to find that out. Just follow these steps:
Go to the "Settings" page on facebook.com
Click on "Security and Login".
Select "Where You've Logged In." This will take up a list of all devices and locations.
This feature is useful for making sure you're logged in to the right Facebook account and for keeping your data safe.
For example, if you're using a public computer, you'll want to log out of your Facebook account before leaving.
Moreover, learning how to check if someone else is accessing your Facebook account can provide an added layer of security. It enables you to spot any unauthorized activity and take immediate action.
This will minimize the chance that someone could access your personal information by logging into Facebook with your username and passwords.
You can also keep track of which computers or devices have been used for any browsing activity on Facebook in case someone is trying to login to your account.
Restrict Friends From Seeing Your Posts
Do you want to publish posts that restrict specific friends from seeing your posts? Facebook lets you do this.
The post is not visible to the person or group of people that are blocked from viewing it by default.
Follow The Following Steps To Restrict "Friends From Seeing Your Posts
Step 1: Click on "Settings & Privacy" >> "Settings"
Step 2: Go to "Privacy" > "Your Activity"
Step 3: You can edit who see your upcoming posts.
Spy Your Competitors Facebook Ads
Do you want to know what your competitors are up to with their Facebook ads? Yes, you can!
Here's how to use this feature to study on your competitors Facebook ads:
Step 1. Go to " Pages" in search and type in your competitors' name
Step 2.You'll find a section called "Page Transparency" and click on the link called "See All"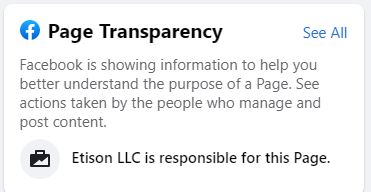 Step 3. Click on the button "Go To Ad Library" Then you'll be able to see all of their ads.
This is an amazing feature if you want to see what types of ads are working for your competitors. You'll get ideas on what to do with your own ads and be able to optimize them.
Tip By SocialAppsHQ: If you see ads that have been active for a long time, it would mean that the ads are effective for their business.
Save Posts For Later
Seen a really cool Facebook post that you'd like to save for later? It's easy!
To do this:
Step 1: Click the ellipsis menu of the post.
Step 2: Click "Save Link" and then you can save it to a specific folder.
This will save your posts in order so you can go back and view them later!
Tip By SocialAppsHQ: If you're a Facebook Advertiser, we recommend you to go through your feed and save any ads that lots of engagement so that you can analyze them later. You can also refer to the ads later when you need new ideas for your upcoming marketing campaigns.
Conclusion
I hope this article about hidden Facebook Features has been helpful and eye-opening! You should now be able to confidently navigate your Facebook account and make the most out of its features. And if there's anything else about Facebook Marketing that you want to learn more about, please don't hesitate to ask too!
Latest posts by Rajat Garg
(see all)